I have a BIG exam on Thursday, so let's make this short and sweet! Who's a homo (etc.) this week in comics????
SEIGE IS OVER!!!!
SEIGE #4
Yup! It is the end! Loki does some awesome magik-ing and recharges our heroes as they go head to head with failed-hero-turned-omnipotent-super-villain the Sentry the VOID!!! Expect some Billy/Teddy cameo action as All Who Avenge team up to put the beat down on everyone's least favorite Marvel character!
Dark Avengers #16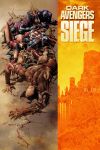 It's curtains for the Anti-Avengers! This makes sense: The Heroic Age starts next month and--despite their best (or worst) intentions--making it as heroes has not worked out for this team of villainous posers. BUT Dark Avengers is, to quote the solicit, "Marvel's number one ongoing series". So expect some awesome fireworks and a classic "The End!... Or Is It????" final page! The ongoing title maybe be "ending", but I'm pretty sure a concept this good is just going on hiatus until next summer's Heroic-Age-ending event.
ALSO: Second Coming!
New Mutants #13
It's chapter seven and our favourite Asian lesbian librarian (Wait. How has Karma never done pr0n? Or AT LEAST ironic burlesque!) has lost a leg! Damn you, Yost!!!! But, also, how will phantom limb syndrome effect someone who can control OTHER PEOPLE'S LIMBS??? And, also, will Iron Man or Box step up and give her a fancy attack leg? I'm thinking something along the lines of
Rose McGowan in Planet Terror
! Whatever the case, this issue is the start of Bastion's second assault on Hope Summers and the X-Men, so jump on now if you like action!