Slim pickings this week, and a lot of the books are good-byes before the relaunch. So it's tears today, but next week is Justice League #1!!!
Daken: Dark Wolverine #13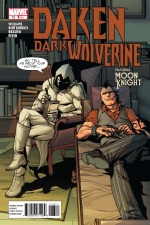 Moon Knight guests in this issue on a mission from Wolverine and the Avengers! Meanwhile, Daken continues to make his bid for control of L.A., but given how well his last plan went, and that there's now an Avenger in town, how will Daken's plan change to accommodate his new obstacles? Given that Moon Knight's pilot was/is gay (where is he these days anyway?) it'd be cool if they could work a homo angle. But if they don't at least we'll get some awesome and twist-y psychology-followed-by-action!
Wonder Woman #614
The last Wonder Woman before the re-launch! It'll be interesting to see what kind of meta discussion will go on in this issue. Wonder Woman isn't disappearing, but she's changing again. This story has been all about change, though, so it's thematically on point to talk about it. The last few issues have all been about what essential characteristics makes Diana Wonder Woman; the conclusions drawn in this issue will probably show the direction for next month's number one! #excited
Gotham City Sirens #26
Of all the titles ending because of the re-launch, this one has a unique situation: all three of its protagonists are continuing on as prominent characters in three different titles. And with the re-launch affecting the Bat-verse so spottily, where will this issue take the team and the characters themselves? The cover shows us that the past two years has changed each woman for good (if not for the better [Sorry, I couldn't help it!]), but the big question, as usual, is will these character changes carry into September? #greatseries #greatcover